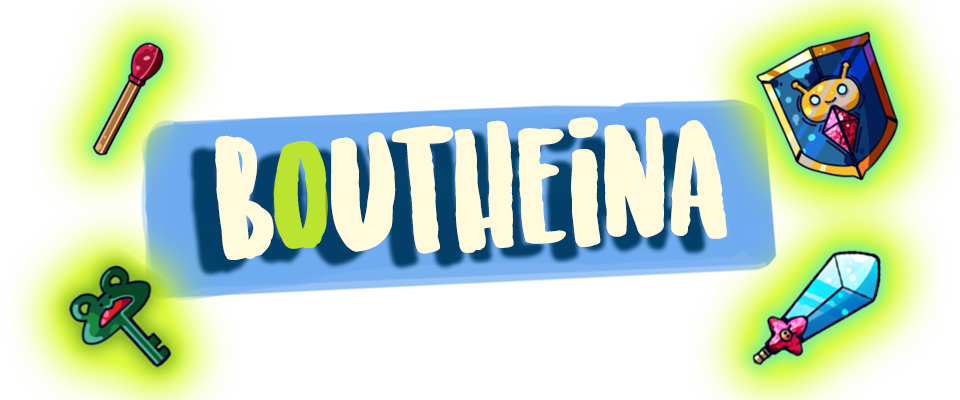 Boutheina: A Bug's Adventure
Note: Click on "ESC" key to adjust sensitivity - helps with drawing the flower!
It's a bugs world after all -
Snoop around and use your flower stem to unlock new items you can use to progress! Help Boutheina rescue her friends from the unfortunate fate that has befallen them. Embark on a journey accross a bug's small world, where all things are large in comparison. Use your abilities to make your way around mean frogs and acquire disposable items.
Items for DAYS!


Meet VICIOUS Opponents!

Dev Team:
Gameplay Devs: Dakota Hall @dakotahall & Johnny Wan @johnnywan
Game Design & Music : Athena Dai @atheniann
Art & Animations: Yaz L @yazl
Github Repo:
Comments
Log in with itch.io to leave a comment.
I really like the art design. Very impressive.
Love the design and animation of the characters! It was a great pleasure to play and the crouch animation of the main character made me smile :)
So glad you love my artwork and animation! I definitely had some fun making that crouch animation hehehe.
Very cute game design. Music is quite lovely and the Bug vs Frog is a very nice concept ! I like the pulling Words mechanic, it's very neat and fun to use.

I do have a hard time to grab some words however due to my mouse reaching the edge of my screen. It could be because of my high sensitivity ? Not a big issue to resolve in any case I believe.

Amazing work guys :)
aww thank you so much for the kinds will!! yes I totally agree about your comment - also about locking in the bounds for the mouse, we should definitely do that if we revisit this game!
Thank you for playing!c':
Amazing game design and smooth mechanics! Love the sound and art <3 beautiful work!